Charlotte Chanezon's HomePage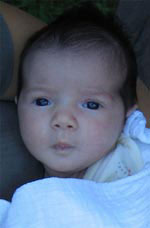 Charlotte Aurore Olga Chanezon was born in Paris Wednesday the 11th of august 2004 at 22:57 GMT.
She weighted 3.6 kg and measured 51.5 cm.
She is old today.
Here are a few pictures from her first week, and some from the few weeks after that.
The best album though is Charlotte in august and september 2004, a mix of pictures from my digital camera and from Dorothee's analogic camera. Dorothee's pictures are much better and she took many great shots of Charlotte.
You can send Charlotte an email: charlotte (at) chanezon (dot) com (Dorothee and I will read it to her:-)